I started writing Recycled Sewing to supplement my first blog Recycled Fashion. I started sewing as a result of my interest in adjusting vintage / second-hand fashion, which soon progressed to other items I make from recycled materials. I wanted Recycled Fashion to remain its focus on fashion, and thus Recycled Sewing was born.
I'm feeling very flattered today, as I've just received my first blog award for Recycled Sewing; the Beautiful Blogger Award.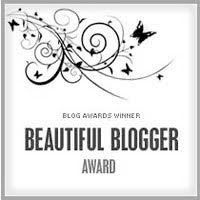 The lovely Dee over at
BabyGalah
, awarded me with this honour. Thank you so much Dee! Have you seen some of her creations? She is very talented:
Isnt this vintage girl onesie just gorgeous?

The rules of this award require me to nominate another 10 bloggers the 'Beautiful Blogger Award' so here goes:
1.
Kitty n' Kitsch
I know George has already received this award, but I just adore her little handmade childrens boats, so I award her again =)
2. The Posh Op Shopper by
Je T'aime Vintage
for her collection of beautiful vintage clothes
3.
Giggles Down Under
A beautiful photographic blogging journey of a family leaving Maui to move to Australia
4.
I am Pink
A blog about a dog! called Pinky Deluxe, who showed up needing help at the Merced Animal Shelter in Central CA, United States, and found a new family home.
5.
Little Food Junction
A blogger from India who creates absolutely magnificent food for picky eaters..children!
OK so I know I am supposed to nominate 10 bloggers, I do read other blogs all of the time, but these are my top 5 beautiful blogs I can think of right now. Enjoy!